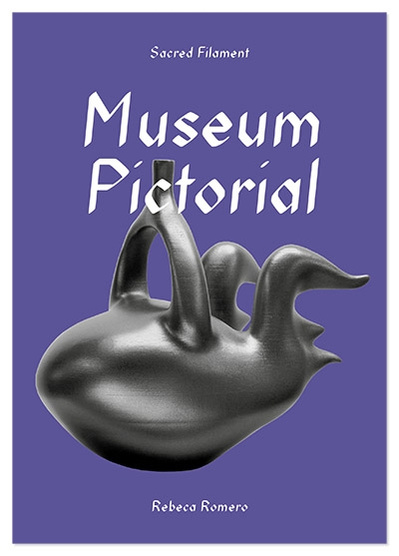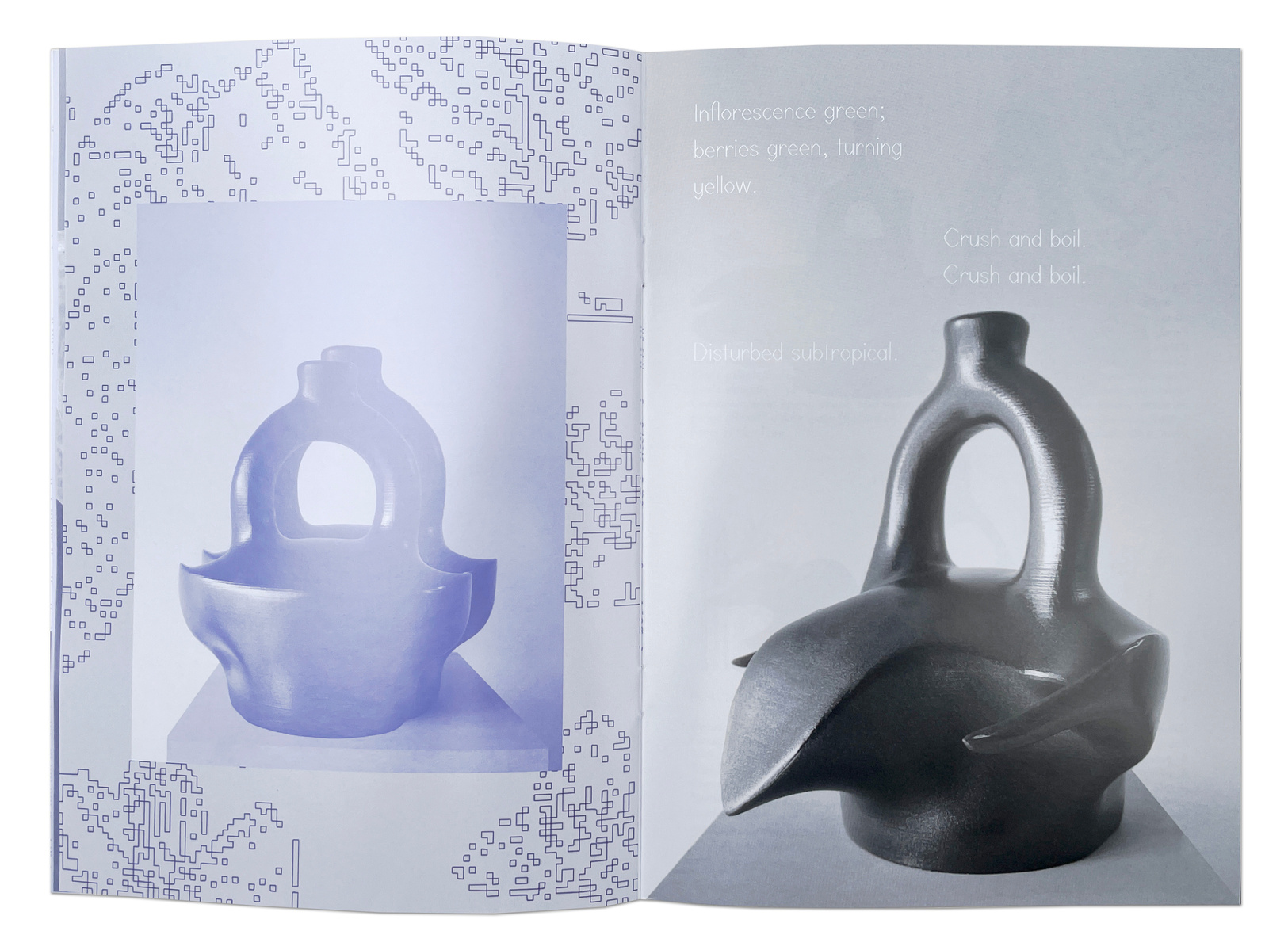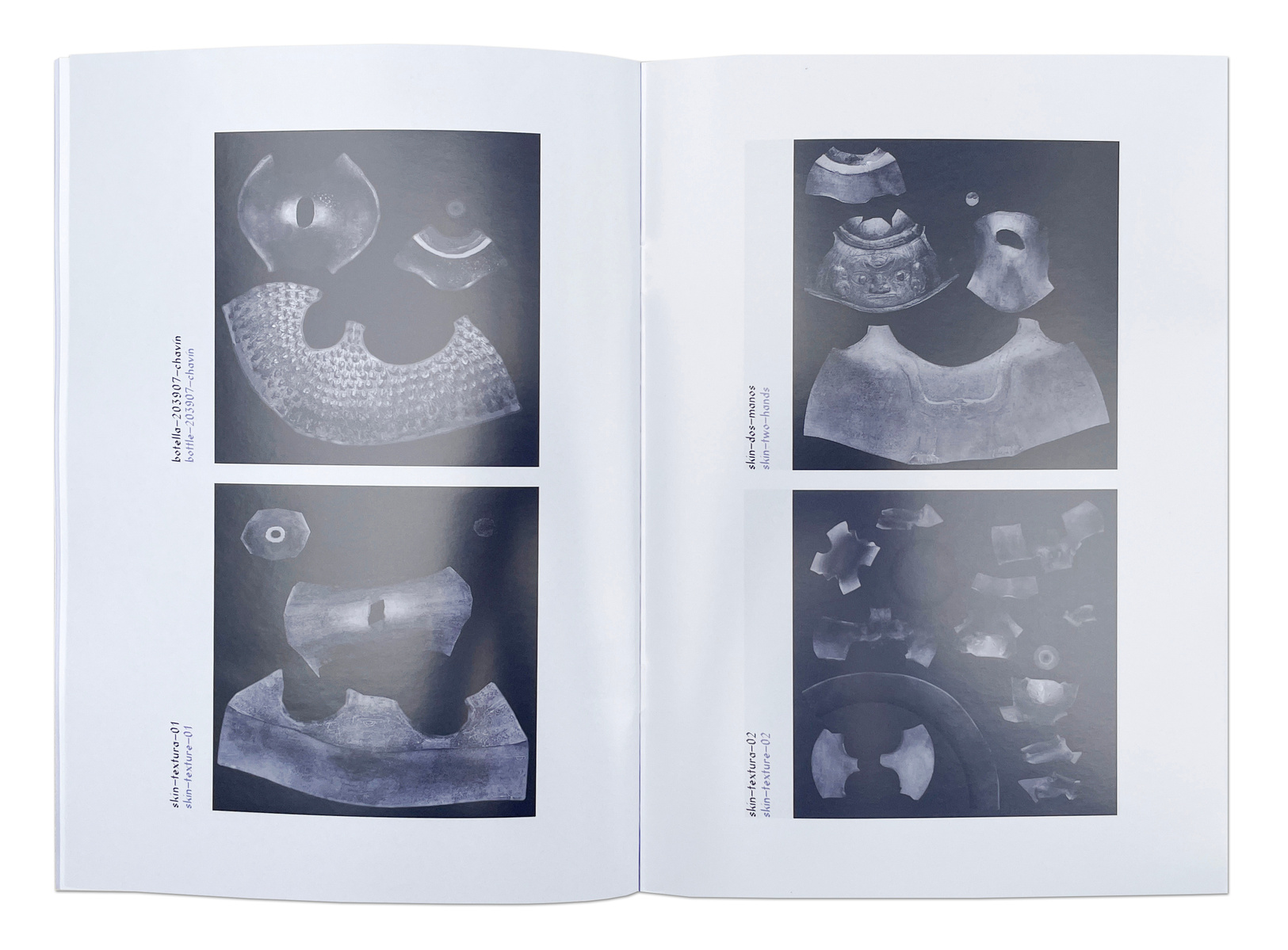 Museum Pictorial is a series of publications initiated and produced by Pleats
www.pleatspress.com
looking at how colonial archives and collections can be critically examined and redefined through the lens of digitality. Drawing attention to mass digitisation projects concerning colonial artefacts, the series balances the promise of greater accessibility and preservation with questions concerning ownership, representation, and knowledge extraction. Each publication is a new collaboration with an artist, and engages with museum digital initiatives such as: digital restitution, virtual reunification, digital collaboration and replicas.
Central to Museum Pictorial No.2 Sacred Filament is a series of 3D printed reconfigurations of Pre-Columbian vessels by Peruvian artist Rebeca Romero. The artworks - speculative and shifting in form and meaning - are modelled using an online resource of artefact scans, with interventions and mediations by the artist. The 3D scans of vessels are made publicly accessible (under CC Attribution Licence) by the Ministry of Culture, Peru.
The hybrid assemblages of Datura XL-7, Cumala IV, Vilca One & Huachuma 3000 fuse synthetic and organic forms, and are presented alongside text fragments generated from research at the Herbarium, Library, Art & Archives (HLAA) at Royal Botanic Gardens Kew, highlighting sacred plants native to South America.
Depicting a fluid interplay between the physical and digital realms, Sacred Filamentforms connections between the 3D scans of Chavin* vessels and the entheogenic plants used in the culture's sacred rituals that served as the catalyst for new, digital transformations of the vessels.
*Chavin civilisation developed in the northern Andean highlands of Peru between 900 and 200 BCE.
Museum Pictorial. No.II: Sacred Filament
(2023)
Rebeca Romero
Edition of 200
Published by Pleats
© Rebeca Romero and Pleats